Friday again? Who would have thought it, seems to come round once a week. Letters!
Dear Husband, did you give me this sore throat? I'm a bit miffed I'm coming down with some cold/bug. I just don't 'do' ill. EDIT woke up this morning to find I'm completely bunged up with that classy seal-bark cough.
Dear Self, do not even consider demolishing all that Boursin in the fridge.
Dear Penpals, I do owe a few letters, I'll admit but I'm owed quite a lot so hopefully I'll have the replies written before any more come in. I've been trying to sit down and get all my thoughts on to paper but time has got the better of me.
Dear Fellow Bloggers, I know I've been pretty dreadful at making it back to your blogs recently and even when I have, failing to leave comments half the time. I'm missing you. I'll be back prowling your posts soon.
Dear Self, maybe we've taken on too much? Maybe not enough? I never know how to get the balance right. I'm certainly failing to keep all the balls in the air at the moment, possibly because I'm being so lazy.
Dear Self, you know what we said last week about stopping all the food and wine greed? You failed. TRY HARDER! We haven't been training our ass off all summer to undo all the good work in one goddamn month.
Dear Everyone, I am so excited about Christmas already. I've sorted of quite a few of the presents already and am more than ready to get my Christmas hat out and deck the halls. We've had a frost – it can't be too early!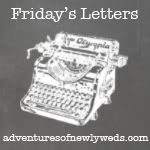 Happy weekend everyone!