Dear Self, why is it so difficult to put together a small list of present ideas for people? You moon over stuff all year long then as soon as someone offers to buy something for you in the name of Christmas, all ideas vanish!
Dear Turkey, please go ahead and put on some good meat over the next few weeks. We'd like you all plump and juicy.
Dear Self, maybe you are overdoing it? We got wiped out by a really basic cold and frankly we just can't get everything done without falling asleep pretty much standing up (I lie, sitting down).
Dear Husband, see I told you I wouldn't eat all the Boursin, just quite a lot of it. Sorry.
Dear Dentist, drinking through a straw may well be the only way to save my teeth from acid erosion but let's face it, this will not be a practical solution forever. As it is I look like a child drinking everything through a blinking straw. Grrrrrreat!
Dear Self, it would surely be much more productive if you craved things like salad instead of wanting loads of junk food.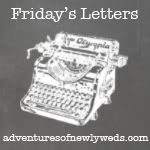 Happy weekend everyone.