Dear Mr Weatherman, I think we've had enough snow and ice now. How about some sunshine?
Dear Husband, I'm alarmed you're turning 28 so soon (old man!), but glad we shall be celebrating twice, just to be sure we cover it.
Dear policeman I passed yesterday, so what if I was wearing a santa hat at the wheel? It's December, lighten up!
Dear neighbours, please put loads of decorations on your houses so I can enjoy them when I look out of the window. I've got a string of lights on a bush for you to admire.
Dear new boots, I love you soooo much and can't wait to show you off really soon!
Dear self, keep on swimming, keep on swimming, keep on swimming, swimming, swimming…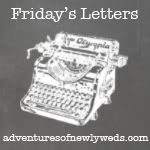 Happy weekend one and all <3