Friday letters time again!
Dear Roxy, please stop eating my stuff. My hoody was a Christmas present and that's now a gonner. Eat your own stuff or maybe just stop chewing? Ps. You are not allowed to sneak onto the sofa when I'm not looking!
Dear Mr weatherman, I'm so glad we have some warm days ahead but the heavy snow scheduled for tonight may strand us on Saturday and it would be kind of a change to get our and about. Maybe next week…
Dear Husband, you have seriously got to learn to get yourself up on time. I cannot quantify how cross it makes me when you just roll over and go back to sleep when you know you're supposed to get the hell up. MEN!
Dear penpals, thank you for the letters I have received this week, it made for such a nice surprise. Half a dozen of you should have received one this week too and I daresay you had given up expecting a reply I'd been so long. Ooops.
Dear Twitter, just sort yourself out please. I'm fed up of my @connect things failing to show.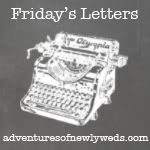 Happy weekend one and all <3