High time for Friday Letters!
Dear Roxie, why are you so good at home only to be a total ass out and about? How abouts being a good girl all the time.
Dear Husband, you're probably right (as usual) I do need to somehow de-stress and stop living in this highly strung state.
Dear self, calm down.
Dear boot collection, I love you and I know you're a strong family that will probably keep growing.
Dear Mr Weatherman, I hear speak of snow again, how about you cancel that and give us some warmth instead. I'm feeling ready for Spring.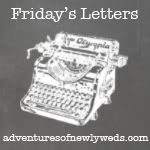 Happy weekend everyone!